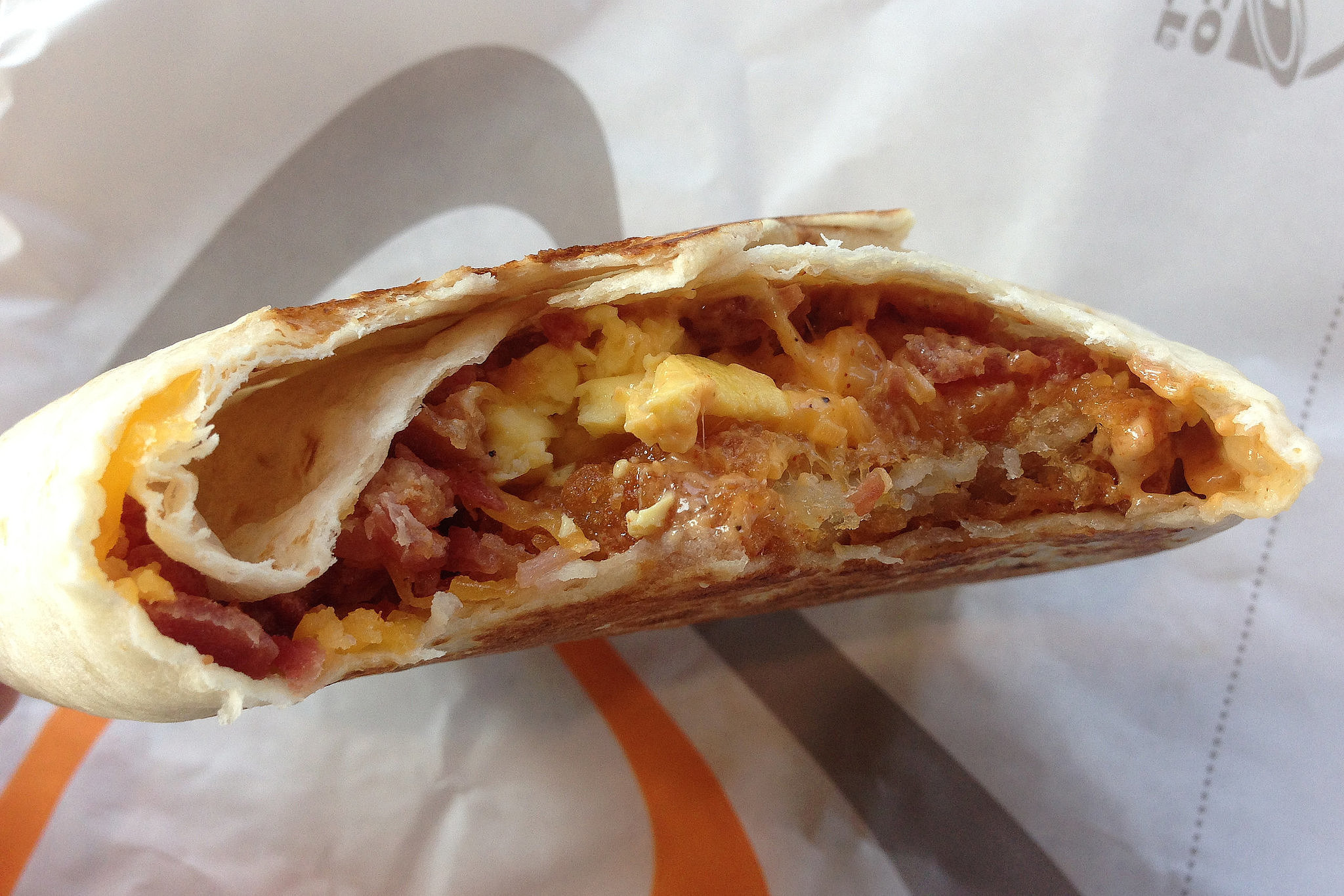 BACON AM CRUNCHWRAP
Taco Bell Copycat Recipe
3 strips bacon, diced
2 tablespoons peanut oil
1 frozen hash brown patty
1 teaspoon butter
2 eggs, beaten
salt and pepper, to taste
1 gigantic flour tortilla or flour wrap
2 slices American cheese
1-2 tablespoons spicy ranch dressing
oyur favorite hot sauce, to taste
In a skillet over medium heat, brown bacon until crispy. Transfer to paper towels to drain and set aside. Allow pan to cool, then quickly clean fat out of pan with a clean paper towel. Add oil to skillet, and heat until shimmering. Add frozen hash brown patty and fry, flipping occasionally, until golden brown and crunchy. Transfer to paper towel to drain, and again, clean pan with paper towels.
Add butter to pan, then eggs, salt, and pepper. Stir occasionally with spatula until eggs scramble. Remove from heat and set aside.
To assemble and fold: Heat tortilla in microwave for a few seconds until soft and pliable. Top with one slice of the cheese, then the scrambled eggs, then the bacon. Top with the fried hash brown patty, and as much of the spicy ranch and hot sauce as you'd like. Fold the top part of the tortilla down so it covers the filling halfway, then, moving clockwise, continue folding the tortilla into a hexagonal shape. Transfer seam side down to a skillet over medium high heat. Press down with a spatula or another pan, and grill until sealed and beginning to brown, about 1 to 2 minutes on each side. Serve with additional hot sauce.